Impeccable service, exquisite dining, sumptuous suites and views to die for are all part of the package at Bodysgallen Hall.
I can't lie, when I see the weather forecast for our weekend mini break my heart sinks: rain is predicted all day and all night. But from the minute we pull up it is apparent that a little precipitation won't dampen our spirits. Bodysgallen Hall is reached via a small single-track road, passing through meadows and the hotel's 220 acres of parkland; we are greeted by the grandest 16th Century country manor house, its warm stone gothic façade set amid tranquil gardens and against a background of the rugged peaks of Snowdonia.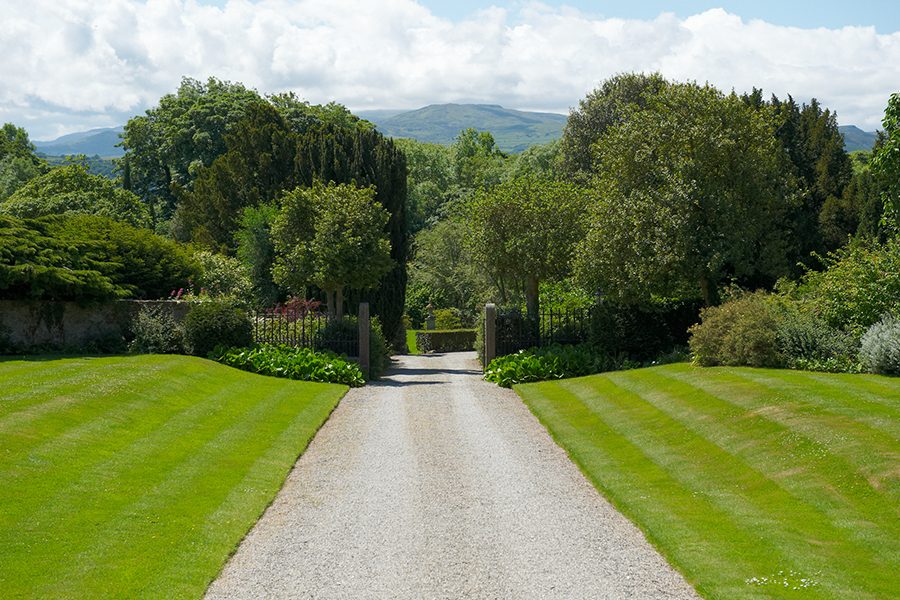 Inside, the lobby feels cosy and intimate: dark oak panelling and heavily draped curtains are complemented with carefully selected antiques, and big comfy sofas huddle around a large crackling fireplace. There can be few better places to hibernate on a rainy, grey afternoon.
Other than our room, perhaps.… The classically styled Vaughan Suite is sumptuous. A warm, bright living area boasts vintage furniture, brass light fittings and comfy armchairs, while in the bedroom there is a queen-size four-poster bed, all with views of the perfectly kept garden and parkland areas. There are two bathrooms, complete with fresh robes and luxurious toiletries. Everything feels gloriously romantic and decadent and we are happy to hibernate.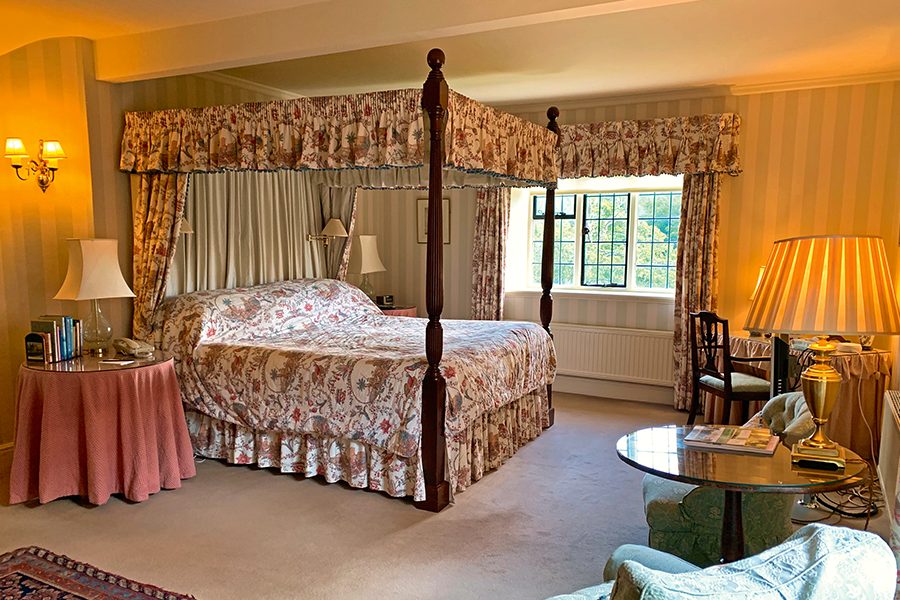 Later, we head down to eat at The Dining Room. With its grand fireplace, it is easy to imagine back in the thirteenth century when this space was the main hall of the estate. Now it houses an intimate 3 AA Rosette restaurant. Our table sits pretty by the mullioned window, and a carafe of expertly chosen wine already awaits us, illuminated by flickering candlelight. This is country house hospitality at its very finest. We look out over the pristine gardens, spotting Conwy Castle in the distance.
It is the perfect setting to enjoy the traditional but intelligent menu that has been deliciously created by and cooked under the expert direction of head chef, John Williams. Rooted in a passion for the local area, John's carefully curated menus are farm-based and plant-inspired, and make use of seasonal produce from the property's well-established walled fruit and vegetable garden. A standout dish among the starters – plump, meaty scallops, roasted and served with garden pea cream and a delicious light squid ink crisp – is a case in point; so too is a balanced main course of halibut, butter poached and accompanied by Bodysgallen's homegrown onions, yeasted cauliflower and a cream chicken and thyme jus. Desserts pull a similar trick – witness a pretty plate of poached estate rhubarb served with rhubarb parfait and topped with a delicious rhubarb sorbet. It is obvious that the team really do make the most of their garden's produce.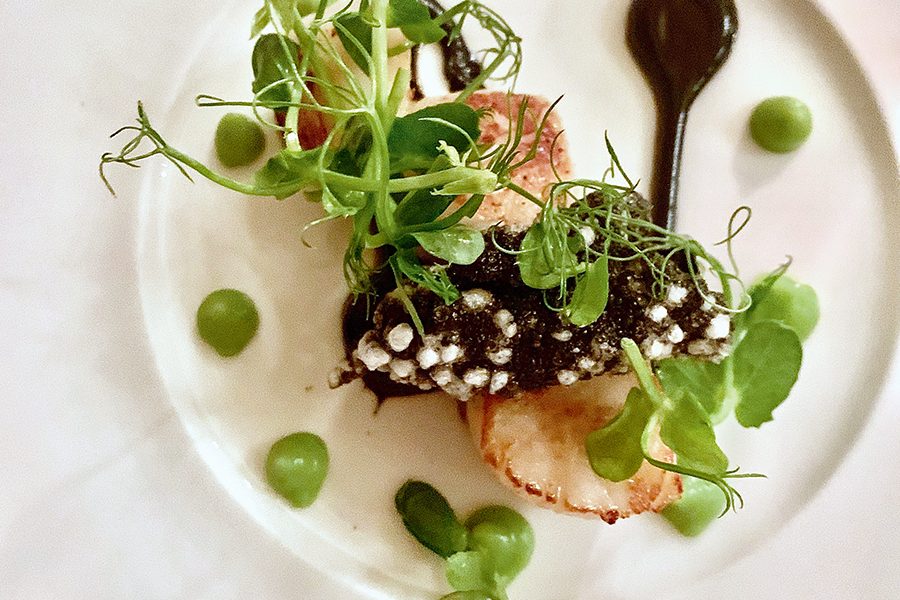 Before retreating to our room, we decide to grab a nightcap from The Clubroom. Here, the bartender mixes the most exquisite infusions, which together with fresh flowers and herbs from the garden, create a cocktail menu that tells a story of the land. We sink deep into the sofas as we explore the various offerings.
After an excellent night's sleep and a pinch-me moment of awakening in the beautiful surroundings of our suite, breakfast beckons. We head over to the breakfast room and discover a buffet of fresh fruit, cereals and tempting pastries alongside a hot à la carte menu, fruit juice, tea, coffee and toast, too. Enviously spying the other guests' breakfasts, we decide to indulge with a full traditional English breakfast. Presented as exquisitely as last night's dinner, it does not disappoint; exquisite flavours and jaw dropping views make for the perfect breakfast.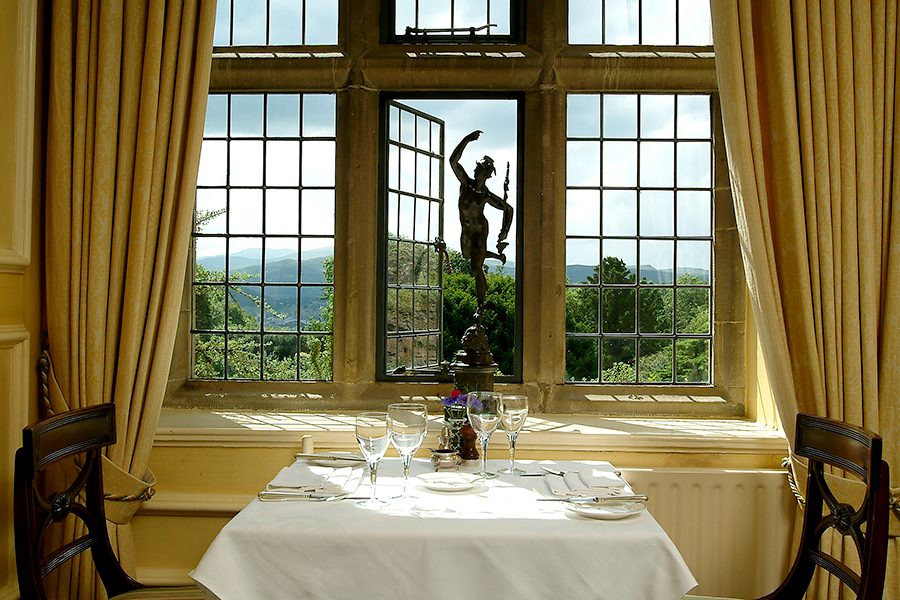 Later, we amble over to the spa, enjoying the views and the bracing air on the way. The spa is situated in a cute little cottage at the bottom of the hill. I'm booked in for a full aromatherapy experience treatment, but first up, a quick stop at the gym (an attempt to burn off some of the calories from the past 24 hours). Afterwards, I have time to quickly check out the facilities before my treatment – a steam room, sauna, relaxation room, indoor pool and Jacuzzi complete the offering here. Back in the relaxation room, my therapist Mia joins me and leads me to the treatment room where she explains that the aromatherapy experience will take just under an hour, and promises to transport me to another world. She is right – I leave feeling totally relaxed and utterly blissed out.
All in all, it is a memorable weekend, and we can't help feeling that Bodysgallen Hall is a little slice of Welsh heaven. Boasting impeccable service, beautiful traditional décor, unforgettable views, exquisite dining and comfortable, homely hotel suites, we can't wait to return.
B&B prices from £190 per night based on two sharing. (01492 584466; bodysgallen.com)