Protect + Polish.
Visiting the dentist is probably not high on your list of fun events. In fact, most see it as a necessary evil, if they bother to go at all. Dental hygiene is critical yet it's ignored so often, sometimes leading to very serious consequences.
I decide to bite the bullet and visit Dr Reena Wadia in Mayfair for my annual visit. I'm popping in for her bespoke half-hour treatment 'Protect + Polish' which includes a general check-up,  oral health check, advice for at-home-care and an Airflow Polish.
RW Perio is a unique private practice dedicated to the treatment of Periodontal (gum) diseases. This specialist clinic is housed in the heart of London's dental district, making it easily accessible to all. RW Perio is founded by the UK's leading gum specialist and 'Dentistry Top 50' winner Dr Reena Wadia. Her aim is to assist every patient to achieve and maintain optimal gum health whilst highlighting and educating the importance of healthy gums because, after all, healthy gums equal a healthy you and are the gateway to optimum overall health.
Gum disease is a serious matter and as Dr Wadia explains, one that's really not given enough consideration. As she succinctly puts it, if our arm started to bleed we'd take care of it; clean it, put a plaster on it, yet when our gums bleed we often ignore it, or think that a quick swill of mouthwash will fix the issue.
Not to scare you or anything but ignoring these warning signs is a big no-no. Gum disease can lead to a startling array of health problems included heart disease and (more recently reported) possibly Alzheimer's. As well as that it means that gums loosen over time allowing bacteria to creep in and teeth to loosen. That thought alone makes me vow to floss more regularly!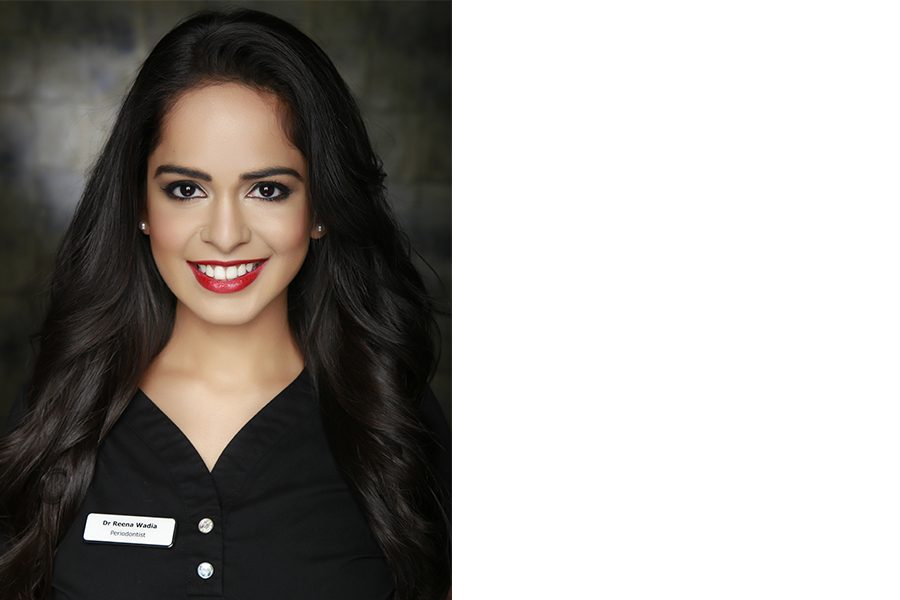 Dr Wadia's approach isn't designed to scare us into flossing, but to educate and make sure we adopt good dental habits at home. After a full check up (no fillings for me!) she asks me to show her how I brush with my electric toothbrush and I am surprised to know I'm going at it with a bit too much gusto. Seems that I should just let it do the work itself! Also, we talk about her new favourite gadget (and one that's a big hit with her clients), the tongue scraper. Trust me, once you've tried this there will be no going back. It's a mainstay of my routine now. Along with more regular flossing, although I must confess I can't quite get used to using the interdental brushes.
As part of the Protect and Polish appointment I try the Airflow polish. This is an advanced polishing treatment that aims to remove stains that traditional scaling and polishing may not remove. The system uses a combination of flavoured fine powder particles, compressed air and water.  It takes literally seconds and I can choose between two flavours (cherry or lemon). This is so effective that it almost completely removes a stain I've had on a front tooth since a serious illness as a child. Not what I am expecting but a happy side effect!
It's such a warm, reassuring, knowledgeable experience and Dr Wadia and her team make me feel so comfortable that I leave with a brighter smile and armed with the tools and advice I need to make sure I never fear the dentist's chair again.
Polish + Perfect is £180 rather than £250 for Mother's Day and throughout March.
Lister House, 11-12 Wimpole Street, W1G 9ST