Royce Pierreson tells us about his role in The Irregulars, adapting to weird ways of working and realising that he was never going to be Marlon Brando.
Photography by Elliott Wilcox | Styling by Holly Macnaghten | Groomin by Charley McEwen
In highly anticipated new show The Irregulars, Netflix revisits the stories of Sherlock Holmes, but fans are in for a surprise, because this series depicts a very different world to that which we've seen in previous adaptations. The focus is the Baker Street Irregulars, a group of street kids who featured in three of Conan Doyle's novels, employed by the detective to help him source information he couldn't access himself.
Royce Pierreson, who plays John Watson, tells me, "It's a kind of flipped version of Sherlock Holmes. Based in his world, but focusing on this group of street kids who are working for him… It has this brilliant energy to it, and it is totally different to any Sherlock you may have read, or seen, or listened to."
In his adaptation, creator Tom Bidwell reimagines the young gang of boys from the books as a group of teens who must race against time to stop a supernatural darkness from descending on London. "I think it will catch people off guard," Royce says. "Old fans, even those who don't really know the universe at all, will maybe have a perception of it, but they are going to be really surprised. It is genuinely dark – I couldn't sleep after filming one of the episodes," he laughs. "Tom balances it all so well though. It is very dark, really scary, but it is also funny and energetic – it has this brilliant energy to it. I think it is a really good mix. I'm excited for people to see it."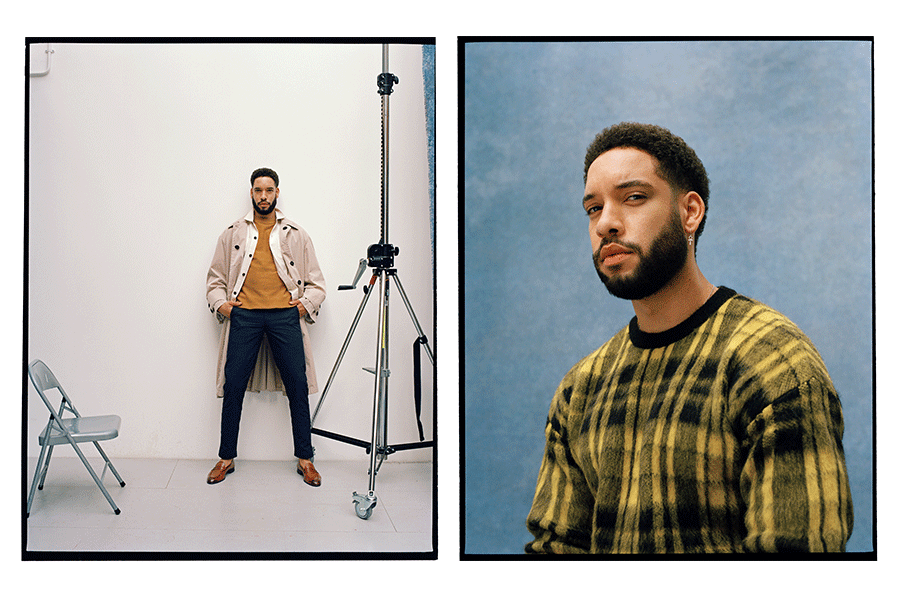 Royce wears, Left: Mustard jumper and cream shirt (
oliverspencer.co.uk
),
trench coat (uk.burberry.com),
trousers
(citizensofhumanity.com), leather loafers(malonesouliers.com) Right: Yellow and black jumper by Mr P. (mrporter.com), ear
ring
(sergedenimes.com)
It was a part Royce just couldn't say no to, he explains. "I have always wanted to play John Watson, I know that sounds convenient, but it's true. My mum has all of the Penguin Classics, so I have been reading them for a long time, and I love the world. And I love Conan Doyle's writing – I think it is the most brilliant storytelling there is. So, when I got the audition, it was a shock for a long time."
Perhaps unsurprisingly, Royce plays a very different Watson to the modest, patient and sensitive observer who we know so well. "I wanted to do him my way," he reveals. "He is a voice of reason, he is the dogsbody, he is the sidekick… I wanted to flip it on its head. I think there is a real darkness to him, as you will see as the series goes on. I don't want to give too much away, but there is much to unravel. I wanted to create this version of Watson who is haggard and tired. I spoke to the make-up artist and I said: 'You have to make this a real, real character: dark and mysterious.' So, we made him kind of sallow and wrinkled and old before his time. He is a very troubled man, with a lot of secrets, and I really wanted to bring that out."
The series, which began streaming at the end of March, has been a long time coming. Filming was due to wrap around this time last year, but with only weeks left on the schedule, everything ground to a halt when the country was thrown into the first lockdown. "We were so close, we were so, so close to wrapping," Royce recalls. "I think we were about two weeks away from that, and then everything shut down. So, we had six months away from it, and started working again in the summer."
"The end of it was the accumulation of all of the hard work that we had done – we were emerging in this new reality to finish the show. So, there is a lot of emotion in that last bit, for many reasons," Royce tells me. "It was a surreal way to work, but I am super proud of everybody, because of what we got done with all of the regulations we had to work under, and having to be away from family, and all of these things happening… you see the results, you see how much energy people brought to those last few weeks and it is a real testament to everybody that we got it in the bag. It was really tough, I am not going to lie. For me it wasn't a nice way to work, in that weird reality. But coming back, and seeing everybody was great, and we got through it and the results are amazing, and I am really excited to share it," he smiles.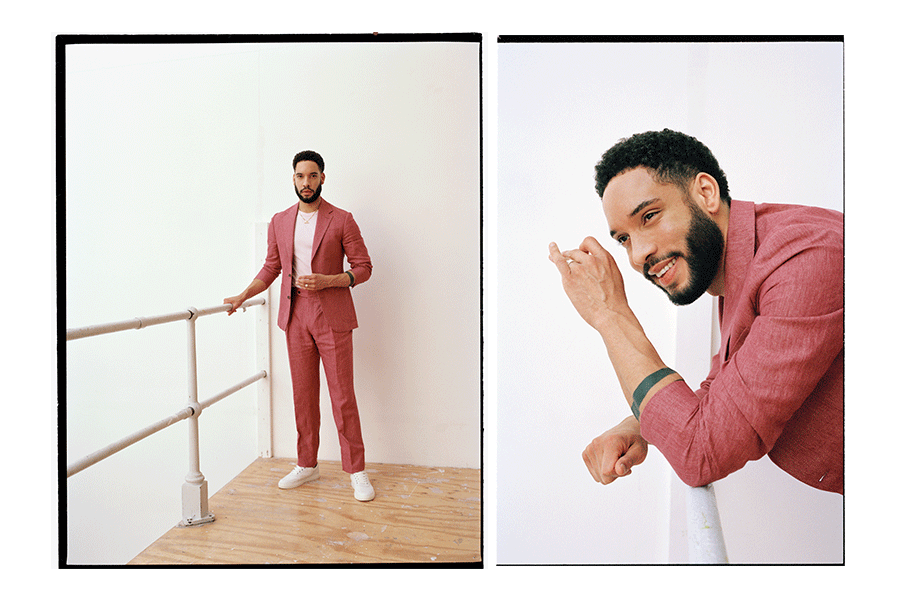 Royce wears: Pink suit (richard-james.com),
pink t-shirt (hemingsworth.com)
necklace and ring
(sergedenimes.com), white trainers (harrysoflondon.com)
As difficult as it is, this new way of working is something that Royce has had to get used to. Filming was supposed to start in spring last year on the second series of The Witcher, the Netflix fantasy series based on the books of Polish writer Andrzej Sapkowski in which Royce plays sorcerer Istredd. "I would've had about five days break between finishing The Irregulars and starting on that," he recalls. Actually, filming only started towards the end of last year, and is ongoing.
"It is another amazing achievement in the middle of all of this," Royce tells me. "Netflix have been unbelievable; just to see the precautions and the safety that they have put in place for everybody day to day. So, I feel very lucky to get to work there. It is all happening because of their hard work. It is easy to take for granted. You know, you come in and you get tested three times a week. And you realise that that is not the reality for a lot of people. That you are lucky to be able to do your job without any worries. It has been an amazingly weird but brilliant year in terms of work."
Alongside these jobs, Royce has been busy with some more personal projects. "I run a production company called Another Method Productions, and we have just signed a really exciting deal," he tells me, enthusiastically. "I can't talk about it much right now, but we have a plan to make a TV series that I think is going to be a real game changer. It explores issues of race. It is really exciting and we're in the pre-production stages of that right now. And I am doing a lot of writing as well. I have just produced my first short film, with Georgina Campbell, who I worked with on Murdered by my Boyfriend. It's a two hander, with me and her, written by my sister actually, Tyler Pierreson – she is a wonderful creator and writer. It was shot in a day and a half and it is some of the best work. It looks fantastic. That is wrapped up. And I have a few other projects on the go, so I am very busy with all of that. It is fantastic."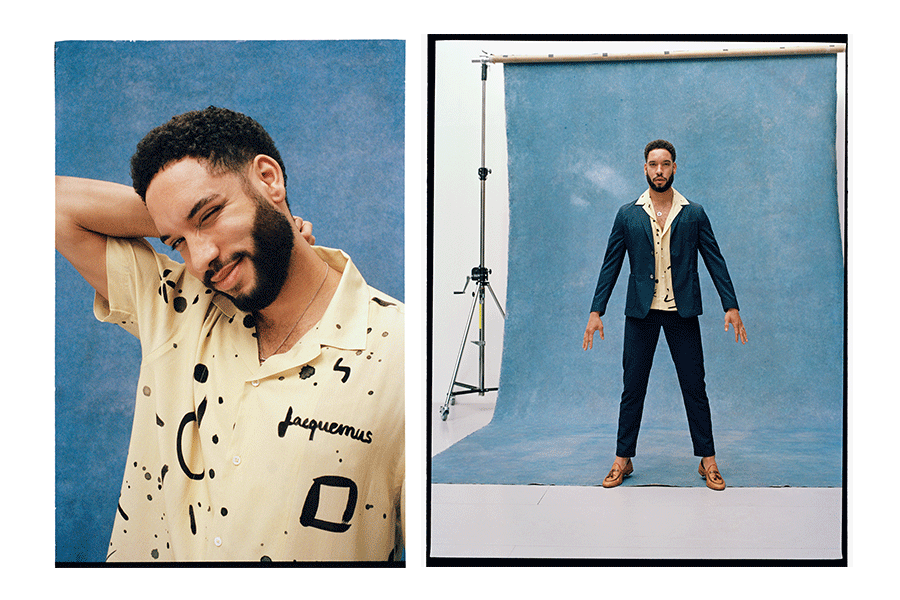 Royce wears: Yellow printed camp collar shirt by Jacquemus (mrporter.com),
necklace (sergedenimes.com)
navy suit
(hemingsworth.com), leather loafers (malonesouliers.com)
Having worked in the industry for the past 10 years, Royce's is a familiar face. The actor is probably most recognisable for having played Reece in the BAFTA award-winning BBC 3 drama Murdered by my Boyfriend, and Jamie Desford in the fourth season of Line of Duty. Recalling how he came to acting, he tells me: "I remember watching A Streetcar Named Desire when I was about 15, and I didn't know anything about the industry, or who Brando was and the impact he had had. After an hour and a half watching it, I was just like, 'I want to be Marlon Brando – let me do that!'," he laughs.
"I started reading Shakespeare and just fell in love with texts, and I guess, internally performing," he explains. "You hear actors say they are actually very shy and reserved, and I think it is true for a lot of us, definitely me. I used to have massive stage fright. In my head I always knew that I could act, if the circumstances were right. So, I had to teach myself to be okay with feeling uncomfortable, to being exposed, and, you know, fucking up. I realised I could give myself a choice. I could be like, okay, I've tried it, and there is absolutely no way I want that feeling again, or yeah, I can live with that and I can use that feeling to become a better actor. So, I kept coming back to it, and I gained a lot of confidence through doing that. Luckily, I got into drama school first time. And I set my sights on signing with an agency and moved to London."
Royce is proud of the work he has done since those early days. "I look at my CV, and I think these are people that I wanted to work with and characters I wanted to play at that time. And it is a really lovely thing to see that thought process through your CV," he tells me. "Everything that I have on there is absolutely what I wanted to do; there is never going to be anything on my CV that I look at and go, 'ah somebody told me to do that, and I didn't want to' – these are my decisions."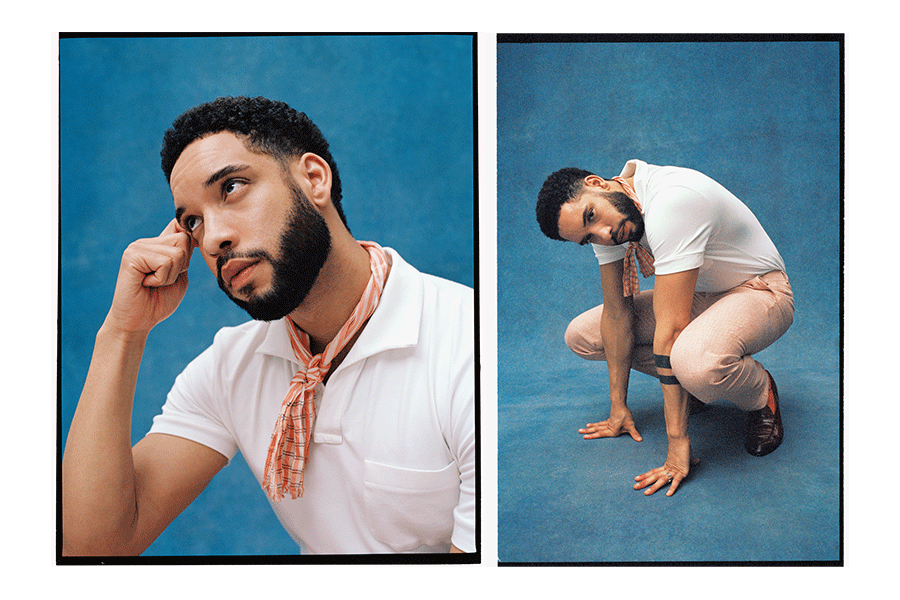 Royce wears: Orange woven trousers by Favourbrook (mrporter.com),
white camp collar shirt (hemingsworth.com),
orange socks
(londonsockcompany.com), leather loafers (malonesouliers.com), vintage silk neck-tie, stylist's own
"So much of being an actor is being able to say yes and no. And the more your profile builds, the more you can say yes or no to. Financially, as well, it becomes easier to say no," he explains. "Even when you first start as actor, you can still do that, but so many actors give that away, saying, 'I'll do anything, I'll do anything'. And then you build your reputation on that, and you get to a certain level, and realise that you have given up that yes and no. So, for me, I hold on to that, absolutely. I love my CV and I love the progression."
Being proud of his choices doesn't mean that he believes he has played every role perfectly, though. "Some of them work, some of them don't work, bits of some work…" he admits. But however he feels about the outcome, Royce says that he makes a point of watching everything. "By watching yourself, you get to see your progression, which is an amazing thing. You know, from first job to twentieth job, you can see how you've developed, and you look at what worked and what didn't work. You see what you don't think is truthful right now, or what you really believe in. It's my work, you know what I mean? I feel like, whatever decision I made on the day of filming, was exactly the decision I wanted to make at that point. That is exactly what I was feeling on that day, so that is exactly what I put into the character. Whatever comes out, comes out – that's the truth. I feel like, if you don't watch yourself, it is like if you cook a meal and you do not try it – you go, 'no, I don't taste my food, I don't like it'. You would never do that, you know!"
On the subject of cooking, Royce tells me that he briefly considered being a chef, before pursuing his career in acting. "I always wanted to do something where you are creating something from different components – I have always been drawn to things like that. I still enjoy cooking, but it's usually very obscure stuff. I do it by taste. So, when I cook for my fiancée, she is very wary, because I put in so much stuff. And I'm like, 'please, just try it, I swear to you it tastes good!' And most of it does taste good, but there is a certain per cent that you really don't want to go there!" he laughs. It sounds like he made the right decision – I'll take his word on the food. 
The Irregulars is available to stream now on Netflix