This characterful property is all about the backstory – from architecture to object.
As creative director of Shutter Hub, an organisation that supports talented snappers across the globe – and as a photographer herself – Karen knows a thing or two about good light. In fact, it's top of her list of non-negotiables when buying a home. "I love big windows and seeing the change in light through the seasons, the height and the glow of the sunlight, especially when dappled through trees, it brings me great joy every day," she says. Karen has lived in her current abode – a 1930s four-bedroomed house complete with a pitched gabled roof, tall chimneys, large rooms, and her requisite big bay windows – for 11 years. She shares the house with partner Adam and their 14-year-old rescue cat, Tutti Biscotti, who by all accounts appreciates the property's abundance of sunlight as much as Karen does.  
The definition of a doer-upper, the house had been empty for some time before it came into their hands. Karen describes the broken windows, wallpapered ceilings, curtain pelmets, gloomy dark red walls "and an old Axminister carpet that was so worn, coming down the stairs was like skidding on ice." But, conversely, this was all part of the plan. In fact, for Karen, it was the dream. "I prefer places that haven't been touched for years," she explains, "with old, coloured bathrooms, faded wallpaper and barely any kitchen. I love the idea of stories being lived out in theses spaces – and being allowed to be part of that." She goes on to describe the couple's first night in the house, a particularly frosty January, huddled under the duvet. "The next morning, Adam took a hammer to the heating pump and got it working. The boiler was old and leaky, so he designed a new heating system to incorporate a wood burner that can heat the water, too." Adam works as an environmental engineering consultant, which clearly has its benefits when you have grand designs on bringing a neglected period property back to life.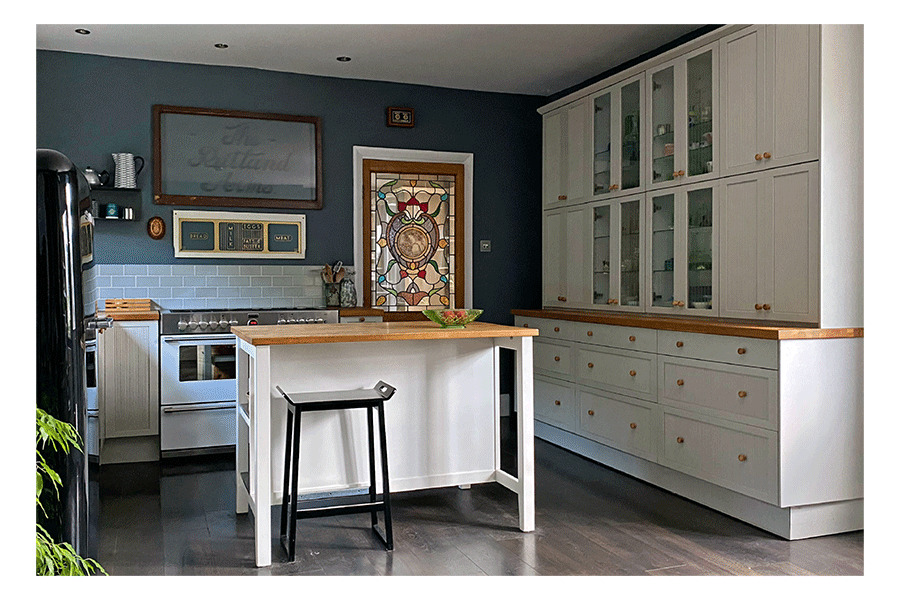 Karen's interiors style is calm but at the same time, eclectic. And that's entirely in sympathy with the architecture and original fittings. "If something looks nice and feels nice, it's welcome," she says. "Especially if it's in a muted tone." Indeed, the house is rich in interesting artworks and artefacts, but it never feels cluttered. There's order to the eclecticism. Her keen eye for light and space sees earthy, neutral shades on the walls and the paint reflects the light beautifully. A keen collector, Karen's homely finds come from auction houses, junk shops and charity shops – pieces she's thoughtfully curated over the years. "I've been buying things since I was a child," she confirms. "I remember seeing this beautiful plate, Homemaker design, and I decided I'd buy it and start a collection for when I grew up and had my own home. It was a second, the transfer was slightly blurred, but at 15p it was what I could afford. I later sold it for £50."
Not afraid to mix the old with the new, veritable antiques are flanked with Instagram-worthy Ikea hacks. Karen's desk, for example, is an old Georgian dining table, while the long set of shelves in the living room are crafted from three Ikea bookcases, which Adam cut down, reworked and painted. "I don't mind where things come from," Karen says. "I just want them to be beautiful – and ideally not brand new." Her passion is not only collecting but creative repurposing, too. "The oak doors in our back hall came from an old office on the Immingham docks that was being demolished," Karen explains. "In the conservatory there's an old table from a factory with some of my Pelargonium plant collection on, I have a few old factory storage bins, and old ballot boxes, and school chairs from another building that was being torn down."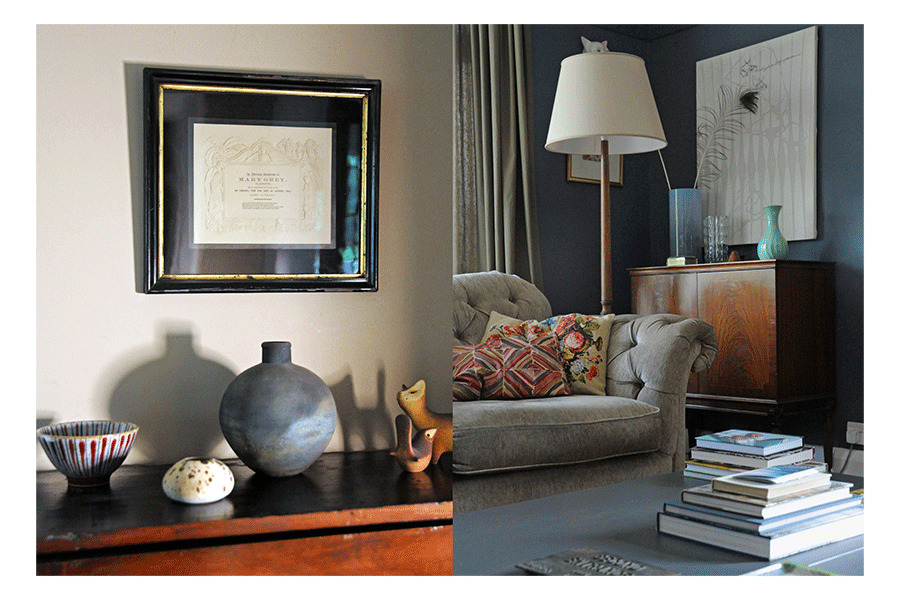 Karen's favourite things in the house tell stories, and she could wax lyrical about their origins and how they came into her possession, it's fascinating. Some of them come with a personal narrative, too. The vintage Sklo Union vase that she found in her grandmother's bin, for example. "When she died, we went to clear her house, her neighbour had also died and whoever had emptied their place had put everything into the neighbour's dustbins. It seemed so sad. The vase is beautiful, heavy clear glass with straight sides that undulate like ribbons… I imagine it was probably a wedding gift, or something significant and important to someone, but literally someone else's rubbish. It's worth about £80, but I'll keep it forever." Karen also describes the cushions needlepointed by her mum, filled with feathers and backed in thick velvet. "They are just lovely." The chairs in the conservatory were bought by Karen's grandmother at auction in the 1950s, and are said to have come off the Queen Mary. And the beautiful oak cupboard in the hallway that doubles as a surface for Karen's pottery collection, was a gift from her late friend, Wendy. 
Between publishing Shutter Hub's first book, launching the Auto Photo Awards, and penning and photographing travel features, Karen is one busy woman. Her calm but eclectic home is a sanctuary to return to, but beyond that, it is a home full of history and character. "I want to live in a house that inspires me and gives me space," she says. "I love to think about how other people lived in this house before us, and that sense of memory, the clues that they were here – that kind of thing feels like magic."