Be honest, Christmas dinner is better than the presents. Utterly excessive, there's probably no other occasion when we allow ourselves to indulge in quite the same way. From toasts to table settings, make sure yours is extra special this year with these expert tips.
Last year didn't go to plan… While we tried to make the best of a bad situation, Christmas just wasn't the same – the best gift is being with loved ones, and for many, that just wasn't possible. We're determined to make up for it this December, though. We've gone to town on the tree, spent months sourcing the perfect presents for loved ones and now, thoughts are turning to making the meal truly memorable.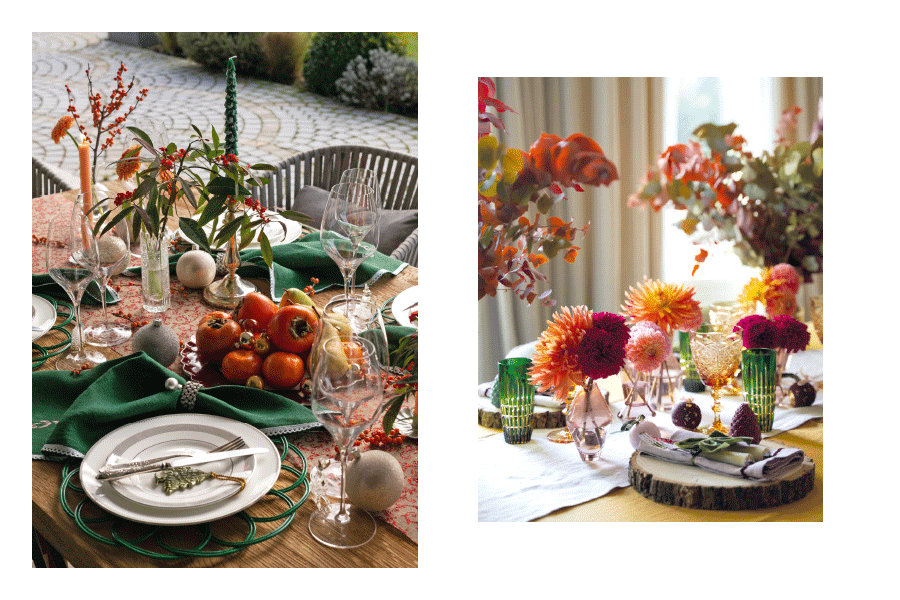 Setting the scene
This winter has a very different outlook to last year, and this should be represented in our Christmas table, Alina Voronova tells us. Her company, Limonsier helps clients to create bespoke, luxury dining experiences, from catering to tablescaping.
Alina's top tablescaping tips
I think that the colours we use this Christmas should break slightly with tradition, aseveryone gets into the swing of being able to host dinner parties again. My Christmas table will incorporate soft pink and lilac, paired with burgundy and a more traditional, deep forest green. I will be including elements of gold, from the cutlery to the decorations – but only hints – to add some sparkle to the table.
Handwritten menus and place-cards are a must for me. They make the meal feel special and occasional, even if it is a small gathering. You want your guests to feel important and cared for and this is an easy way to do so.
Playing with heights and shapes through candles helps to create atmosphere. I love tapered candles, but I make sure that I design the table to ensure I have them at different heights so that they create a dynamic flow. I also love to balance them with different shaped candles as that adds texture and character. This season I will have a lot of lower, rounder candles on my table to create a softer light, and I'll use flowers to bring height to the table design.
In winter the best flowers to use are dried – it is not the season for cut flowers. There are lots of florists doing wonderful things with dried flowers that bring warm colours to the table – this allows for some brighter hues to be used in the linen and tableware. Some of my favourite florists who do great dried flower arrangements are Billy Hillhouse (@billylovesflowers) Gloria (@gloria_studio) and Worm (@wormlondon). I am a firm believer that wreaths are not just for Christmas. Create or purchase winter wreaths that have seasonal colours, but not the traditional green and red of Christmas, and use them throughout the season – it is a great way to brighten up a January dinner table.
When hosting at home, I always find that people gather in the kitchen. Why not embrace this and create a delicious and beautiful display of fresh ingredients and nibbles? Edible decorations are a great way to make a statement and work as wonderful relaxed hors d'oeuvres, which can be a centerpiece on the table, or in the space where you gather for a drink before sitting down to dinner. And it means less to clean up afterwards.
In winter, we all crave comfort food and there is no reason not to serve such dishes, even for the fanciest of occasions. The trick is to serve your favourite dishes on beautiful plates. Cauliflower cheese served in a handmade orange glazed ceramic bowl, or roast potatoes on Ginori 1735 platter are all glamour! I would go for bold colours and designs to make simple dishes look wonderful.
Set the scene for your festivities with a little help from Alina, her bespoke winter tablescaping boxes are priced at £230 and include napkins, a table runner, candles and ceramic decorations, and can be purchased on her website (limonsier.com)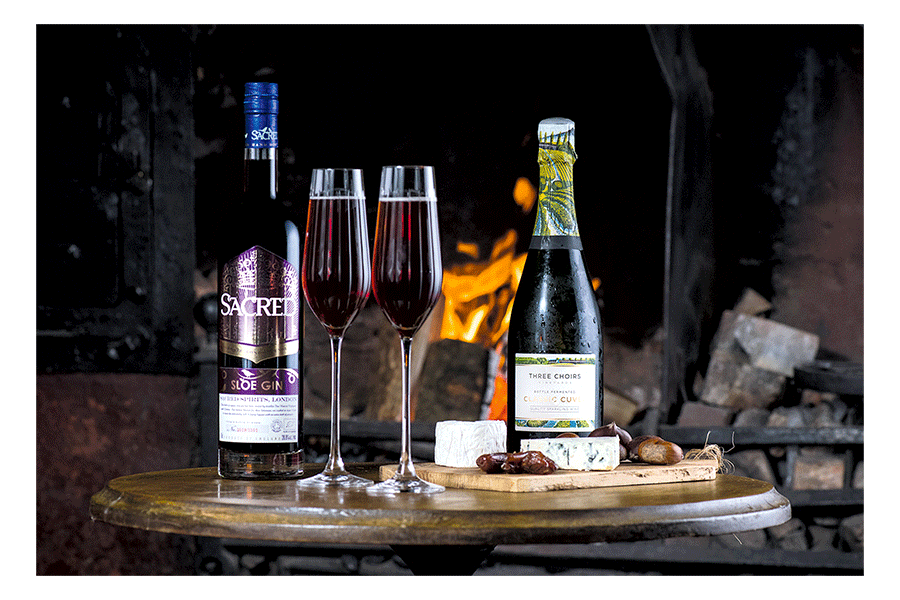 Toasting togetherness
While Champagne is the obvious choice for Christmas cheers, it's by no means the only option when it comes to aperitifs.
Hilary Witney of Highgate-based Sacred Distillery recommends getting creative with a simple cocktail. "Adding a dose of liqueur is a centuries-old way to add a glamorous edge to a glass of sparkling wine," she explains."Our Sacred Organic Sloe Gin is an English classic. The very essence of an English hedgerow, it is made with organic sloes which have been rested in Sacred Gin for two and a half years (which is a very long time!) – and then given an extra kick of juniper right before bottling. Rich and fruity, with a fantastic juniper-piney backbone, this is perfect in a hip flask for Christmas walks or as a delicious aperitif in a Sloe Gin Fizz." And it couldn't be more simple.
Method
Add a shot (or a double shot for more intense flavour) of Sacred Organic Sloe Gin to your sparkling wine, prosecco or Champagne.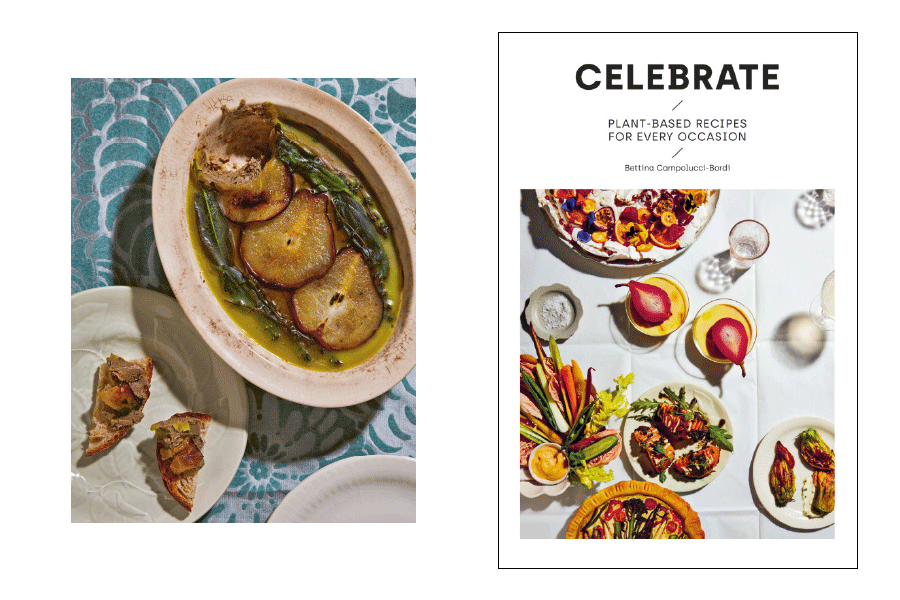 To begin
West Hampstead-based chef Bettina Campolucci Bordi specialises in plant-based and free-from cooking.
Her new book, Celebrate (£20, Hardie Grant) is a celebration of food, community, cooking and being together with the people we love. "The irony is that I wrote the book during 2020, the year we had to figure out other ways to celebrate than being together with our nearest and dearest," she explains. "I hope from here on in we can make up for that time and celebrate as much as we possibly can!" If you're keen to make your festive feast more planet-friendly, there's a whole section on planning a plant-based menu for the big day. Can't imagine Christmas dinner without turkey? Why not start small with your entrées? Bettina suggests a delicious lentil pâté with caramelised pears. She says: "This can be made in individual pots or as a terrine. The thyme and pear offer an extra layer of flavour. This is one of those dishes that gets better with time."
Ingredients
280 g pre-cooked brown lentils (I suggest cooking your own for this recipe, following packet instructions; 140 g dry weight) | 1 yellow onion, sliced | 4 garlic cloves, sliced | 2 tbsp olive oil, plus extra for frying and topping | 300 g chestnut mushrooms | 1 tbsp maple syrup | 1 tbsp tamari or soy sauce | 1 tbsp sherry | 20 g thyme leaves | salt and pepper, to taste
For the topping
1 small pear, sliced lengthways | a few sage leaves | sprigs of thyme
Method
Start by cooking the lentils, ensuring they are nice and soft. Once cooked, drain thoroughly and set aside to cool.
Fry the onion and garlic in some olive oil in a saucepan for a few minutes until soft.
Roughly chop or tear the mushrooms, including the stems, then add to the pan and cook for a further 5–10 minutes. Add the lentils and give everything a good stir.
Add the maple syrup, tamari/soy sauce, sherry, thyme, and salt and pepper. Stir well for a couple of minutes.
Transfer the mixture to a food processor or blender with the olive oil and blitz until smooth.
Pour into your desired pâté pot – for example, one large serving dish or a couple of ramekins.
To make the topping, heat some olive oil in a frying pan (skillet), fry the pears until nice and golden, then add the sage leaves and thyme sprigs and allow to warm through.
Add the fried pears and herbs to the top of the pâté, then pour over the remainder of the olive oil from the pan to cover and encapsulate the topping. If there is not enough to cover the topping by 5mm, add a little more olive oil.
Refrigerate the pâté for a couple of hours or overnight and wait for the top to solidify before serving.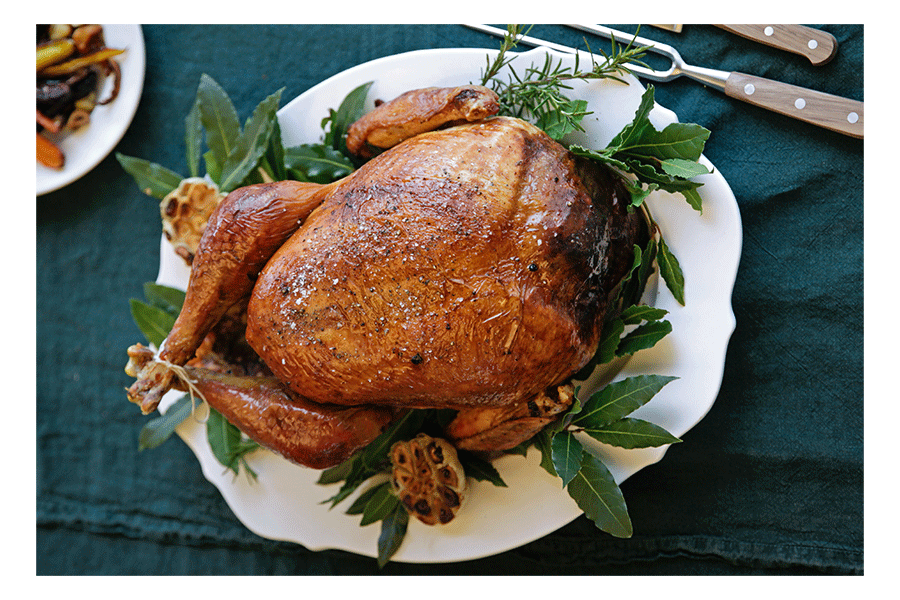 The main event
Nothing says Christmas like turkey, but, due to their size (and the fact we rarely cook them at other times of the year), the perfect roast can prove elusive.
The team at Daylesford Organic advise that the key is to ensure that you leave ample time for the bird to rest. "Remember, every oven is different, so following your intuition when cooking your Christmas turkey is key," they say. "If you think the turkey is cooked, test it by inserting a long skewer into the deepest part of the thigh. Press the skin around the skewer with a spoon and if the liquid that gathers is clear then the turkey is cooked. If the juices are pink, return the turkey to the oven to cook for a further 10-15 minutes. Test again and repeat if necessary. When you are confident that the turkey is done, remove it from the oven and cover generously with foil. Allow it to rest for at least 30-45 minutes before carving and serving."For smaller groups, a crown may be better than a whole turkey, although these don't always represent the best value. Instead, you might like to try this delicious Daylesford recipe for rolled turkey thighs with thyme and cranberry stuffing.
Ingredients
500 g sausage meat | 100 g semi-dried cranberries, roughly chopped | 5 g thyme leaves, roughly chopped | generous twist of sea salt and pepper | 2 medium turkey legs, uncooked | 8-10 rashers of streaky bacon
Method
Begin by preparing your stuffing. Simply combine the sausage meat, semi-dried cranberries, thyme and seasoning in a bowl.
Lay the turkey legs skin side down and remove the bone from the meat. To do so, feel for the bone with the tip of the knife and cut until the bone is visible before cutting around it and loosening it from the surrounding meat. Remove any additional tendons, being sure to keep the underside of the leg intact if you can.
Once all bone and tendon has been removed, flatten each of the thighs. Lay side by side lengthways, overlapping the thinner ends of each thigh by about 5cm so that you have one long piece that you can roll up. Place a large piece of baking parchment onto your work surface. Lay the streaky bacon out on the baking parchment, taking care to overlap each rasher so that you have enough to encase the turkey thighs when they are rolled up.
Lay the overlapped turkey thighs on top of the bacon and arrange the stuffing evenly down the centre. Use the edge of the baking parchment to help you to start to roll up the thighs, using the longer edge as your starting point. Roll tightly until neatly sealed. Wrap the parchment around the outside, removing any excess from the ends. Wrap again in tinfoil, twisting the ends tightly until neat and secure.
The rolled thigh can now be stored in the fridge until you are ready to cook.
To cook, pre-heat the oven to 180°C and put the rolled thigh onto a baking tray (still in the foil wrapping). Roast in the oven for around 1 hour and 15 minutes being sure to turn it halfway through the cooking. Carefully remove the foil and test to see if the juices are running clear – if so, set aside to rest. Depending on the size of the thighs, you may need to return it to the oven uncovered for a further 10–15 minutes.
Set aside to rest for a good 15 minutes before slicing thickly and serving.
You'll find everything you need for a spread to remember, gifting ideas, artisan homewares to decorate your space and much more at the Daylesford Organic Farm Shops. 208-212 Westbourne Grove, W11 and 6-8 Blandford Street, W1U (daylesford.com)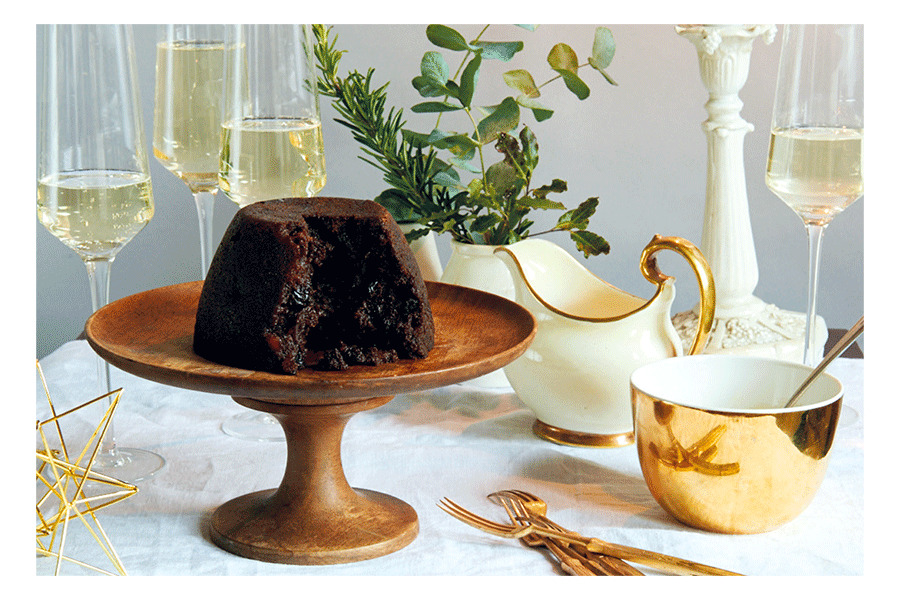 Sweet endings
Though Christmas puds are usually made weeks before the big day, with the right recipe, it's not too late to create a showstopper to round off your meal…
We asked Nick and Ian at north London grocer Melrose & Morgan for advice on the crafting the perfect pud. They say: "There is something enormously satisfying about making your own plum pudding. We are always asked the secret to getting it perfectly moist but not too gooey. We use butter instead of vegetable suet and this gives a more luxurious texture. The prunes marry well with the brandy. Every Christmas pudding needs a good kick of booze. It's Christmas after all."
Ingredients
1 orange | 1 unwaxed lemon | 100 g prunes | 1 eating apple | 75 g self-raising flour | ½ tsp sea salt | 2 tsp mixed spice | 1 tsp ground nutmeg | ¼ tsp ground cloves | 175 g unsalted butter, plus more for the pudding bowls | 200 g sultanas | 200 g raisins | 100 g currants | 75 g mixed peel | 50 g glacé cherries | 100 ml each stout and brandy | 200 g dark muscovado sugar | 25 g black treacle | 3 eggs, lightly beaten | 75 g fresh breadcrumbs
Preparation
Zest and juice the orange and zest the lemon.
Chop the prunes.
Grate the apple.
Sift the flour, salt and spices together.
Butter 2 x 1-litre pudding bowls.
Method
Soak the dried fruit, peel, cherries, apple and zests in the orange juice, stout and brandy overnight, with sugar and treacle.
Next day, stir in the eggs and fold in the breadcrumbs. Melt the butter in a pan and add, then gently fold in the flour mixture.
Mix everything together and divide between the basins. Cover each with a disc of baking parchment. If you are using ceramic pudding basins, tie a larger circle of baking parchment around with string, to cover the lips. If using a plastic basin, just pop its lid on. Steam over a low heat for six hours, keeping an eye on the water level so that it doesn't run dry, then remove and cool.
Wrap in cling film and store until Christmas Day in a cool spot.
Your pudding will need a two-hour steam to heat through properly. Serve with brandy custard or double cream, not forgetting to ignite the pudding before you bring it to the table.
Find everything you need for Christmas dinner, plus artisan hampers, foodie gifts and more at Melrose & Morgan. 42 Gloucester Avenue, NW1 and Oriel Hall, Oriel Place, NW3 (melroseandmorgan.com)

Mini christmas cake bites
No room for pud? How about cake and a cuppa later? We love these gorgeous little bites by Bettina
Christmas cake's origins lie in fortifying plum porridge, served up after a day of religious fasting. Over time the traditional recipe evolved into a pudding, with the addition of fruits and honey. Eventually, the oats were removed and flour and eggs were added, making it more like the fruitcake we know and love today. If you've never made one before, Bettina Campolucci Bordi's no-cook recipe from Celebrate is a great alternative – with echoes of that original. She tells us: "Making Christmas cake is such a time-consuming process. Don't get me wrong, I love Christmas cake, but I enjoy my time with family even more. This is a great recipe to make with loved ones or given as a gift."
Ingredients
40 g ground almonds | 40 g rolled oats | 60 g pitted dates | 200 g blanched almonds | 50 g candied peel | 50 g glacé cherries | 50 g raisins | 1 tbsp orange marmalade | 1 tsp ground cinnamon | 1 tsp mixed spice | 2 tbsp whisky
For the icing
100 g icing sugar | 1 tbsp water
To decorate
glacé cherries | chopped rosemary sprigs
Method
Add the ground almonds and oats to a food processor or blender and pulse to make a flour. Add the flour to a large bowl.
Put the dates, almonds, candied peel, glacé cherries, raisins, marmalade, cinnamon, mixed spice and whisky in a food processor or blender and mix until nicely incorporated.
Add the fruity mixture to the bowl of almond/oat flour and mix until well combined and feels sticky and mouldable.
Form the mixture into 16 small, bite-size balls and put on a plate lined with greaseproof (waxed) paper. Place in the fridge to firm up for 1 hour.
Meanwhile, make the icing by mixing the icing sugar and water into a paste.
Once the cake bites are ready, remove from the fridge and dip each one into the icing. Add a glacé cherry to the top of each bite and finish with a sprig of rosemary. These can be made for later or eaten straightaway.